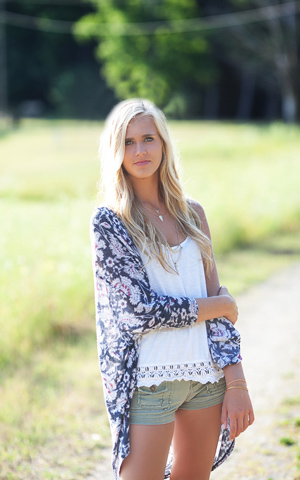 We love to make every senior look and feel amazing as we photograph your very best side, so we've created a couple of different options, both which will ensure you receive stunning images and memories of this exciting milestone season that you'll be excited to share with everyone you know!
Our all new Senior Digital is a 30 minute session offered on specific dates throughout the year in different locations and using a variety of styles (check the 411 section at the bottom of our home page for current dates). The Senior Digital allows seniors to choose specifically the parts of the experience they don't want to miss, while giving opportunity to pass on the options not needed.  The cost of the Senior Digital is $450 and includes the session fee, a 30 minute session which allows time for 1 or 2 outfits, and 15-20 images fully edited with printing rights.  Want more? You can add-on another location on a separate day, a or a wardrobe consultation, or professional hair or make up, or even extra time for another outfit change and a handful of more images. The choice is yours and we can't wait to work with you!
Looking for the full, customized, all-inclusive session?  We also offer experiences we've coined the Embolden Exclusive.  A week or so before your session, our wardrobe consultant will come to your home to help you plan the perfect outfits for the location(s) you've chosen.  Next, our professional makeup artist will do your makeup and hair at the studio before your session. We also offer the chance to add a break in between your two-location session, allowing time to change up your hair if you choose. Then it's off to our session, where we spend around 45-60 minutes at each location we've chosen.  You can make as many outfit changes as you'd like to in that time, but we recommend two or three per location.  After we've captured your gorgeous images, the Embolden team carefully goes through them to choose the best ones from each location, which we then edit fully with our signature editing style. We post a little preview of your session on Facebook/Instagram which you may use on social media, and to make sure you're set up for your big reveal.  Finally, we provide an in-person luxe ordering session with our products specialist to customize portraits, products, and collections to fit your family's needs. Order a photo display for your home, special gifts for grandparents and other family, and an album that can travel with you wherever the world takes you post-graduation!  Our Embolden Exclusive Sessions require a session fee up that ranges from $130-$225 depending on number of locations desired; and collections are chosen at your in person luxe ordering session and range in price from $595-$2995 with most families spending around $1300 for their photos.