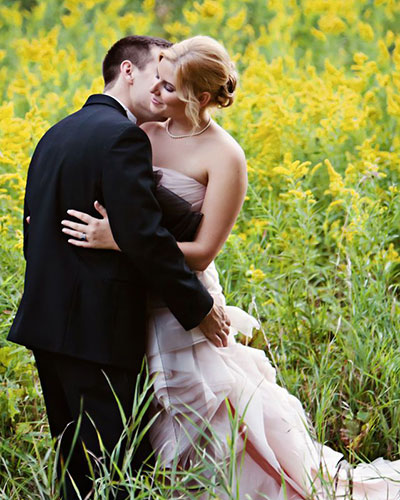 You're getting married! You're thrilled about it, and so are we. We'd love to share your day with you as we work to capture all of the moments you'll never want to forget. Thank you for inquiring with us!  Please take a little time to review all that Embolden can offer you for your special day.
Our two person photography team works together to capture both photojournalistic (unscripted) moments and interactions, as well as to creatively pose images of the bride and groom and their wedding party.
We work with couples to plan their wedding day timeline from start to finish! You'll have the best images to choose from if you can plan your day and the time for the pictures accordingly. For portraits, our favorite light is a few hours before sunset, but we'll take any daylight hours we can get!  We love creative locations for pictures and can work with you to choose several unique spots prior to your ceremony. If you're getting married in cooler temperatures, outside pictures (even in the snow) are not only lovely, but can be so fun!
Not only do we have amazing photographers on our team, but we have someone to make sure all the details about contracts, payments and nitty gritty are in good hands.  She will also help you through the process of ordering pictures and designing products after your engagement and wedding sessions. Our photo editor will work diligently to creatively edit your images with our signature style. Should you choose to add them to your collection, we also offer a team of top-notch makeup and hair stylists to prep you for the big day. Plus, your lead wedding photographer, Anya, will be available to answer any questions about your day and will work with you and your wedding planner/master and mistress of ceremonies to plan your entire timeline of events!
At Embolden, we recognize that part of the fun in having great pictures is sharing them and showing them off. We don't think you should have to wait a year (or even a few months) to see your pictures, when we can hardly wait to see them ourselves! That's why we'll post a few of your images while you're likely still on your honeymoon, and you'll receive your images within 6 weeks after your wedding. Your incredible photos in your hands without the wait. To "have and to hold"…just as it should be!
We're committed to a smooth and personal photography experience that only enhances your already unforgettable day. We would love to partner with you to plan and capture your big celebration!
XOXO, Team Embolden
**Thank you for checking out our wedding info. We are currently booked for weddings through 2017**